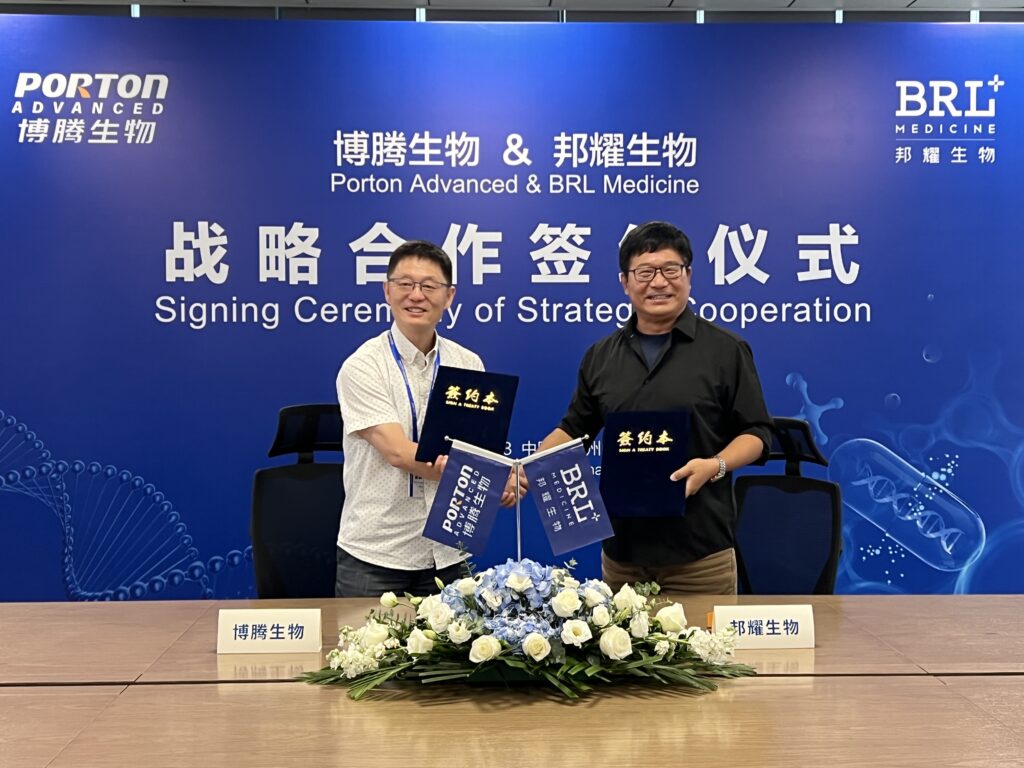 On September 13th, 2023, Porton Advanced Solutions (Porton Advanced) announced a strategic partnership with BRL Medicine Inc. (BRL Medicine). This collaboration will enhance the cell and gene therapy pipelines from BRL Medicine from clinical trials to further expedite the commercialization of innovative therapies.
BRL Medicine, with its strong gene editing technology, robust R&D capabilities, and prospective pipelines, has been devoted to the realm of CGT for years and has achieved significant progress. Multiple pipelines of the company have entered the IND application stage, with three core ones already receiving China IND approval. The gene therapy product, BRL-101, was developed using the in-house ModiHSC® hematopoietic stem cell platform. Whereas, the CAR-T product, BRL-201, was developed using the in-house non-viral site-specific integration CAR-T platform (Quikin CART®). Notably, both have shown impressive results in clinical trials, gaining recognition from prestigious international academic journals like Nature and Nature Medicine.
Porton Advanced, on the other hand, has built an end-to-end gene and cell therapy CDMO service platform with proven experience in plasmids, cell therapy, gene therapy, oncolytic viruses, mRNA therapy, and bacterial therapy. Through this strategic partnership, the two companies will work together to accelerate the commercialization of gene and cell therapy drugs, making innovative treatments accessible to a wider range of patients.
Dr. Zheng Biao, CEO of BRL Medicine, expressed his enthusiasm for the strategic collaboration with Porton Advanced, an international leader in the CGT field with a strong track record. BRL Medicine currently has three new drugs approved for China IND and is in the midst of rapid product commercialization, and high capacity demand. Dr. Zheng hopes that this diversified collaboration will expedite the clinical translation and implementation of multiple innovative drugs benefiting patients worldwide who suffer from genetic diseases, malignant tumors, and autoimmune disorders. Furthermore, he believes that this partnership will contribute to the flourishing development of China's pharmaceutical industry.
Dr. Wang Yangzhou, CEO of Porton Advanced, also expressed his excitement about the profound partnership with BRL Medicine. Recognizing BRL Medicine's robust technological platform, sustained innovation capabilities, and remarkable results achieved in multiple R&D pipelines, Dr. Wang anticipates that Porton Advanced's end-to-end gene and cell therapy CDMO platform will support BRL Medicine in accelerating clinical trials and future commercial production of cell therapy products to introduce more innovative drugs that are safer, more effective, and more accessible. Dr. Wang hopes that through their joint efforts, they can contribute to the advancement of China's CGT field, ensuring the timely availability of quality drugs to the general public.
About BRL Medicine
At BRL Medicine Inc., we aim to become the world's leading Cellular & Gene pharmaceutical company in the era of new commercial civilization, with the mission of "Through innovation led by gene editing, develop breakthrough human therapeutics and benefit the whole world". With its independent R&D center and the "Shanghai Research Center for Gene Editing and Cell Therapy", jointly established by BRL Medicine and university, BRL Medicine has obtained more than 100 patent achievements, and initiated 5 Investigator-Initiated clinical Trials (IIT) in 8 leading hospitals in China, with many pipeline projects have entered into IND application stage. Among them, gene editing projects for β-thalassemia, PD1 knockout non-viral targeted integration CAR-T and UCART have achieved excellent clinical results and have published several academic papers in famous academic journals such as Nature, Nature Medicine and Nature biotechnology. BRL Medicine has built five technology platforms with independent intellectual property rights, including The Gene Editing Technology Innovation Platform, Hematopoietic Stem Cell Platform, The Quikin CAR-T Platform, Universal Cell Platform and Enhanced T Cell Platforms, and has a 7000 square meter GMP pilot plant and an operating team of nearly 200 people, which strongly guarantees the rapid transformation and application of innovative research. BRL Medicine continuously promotes rapid update and iteration of R&D products through patient needs and clinical feedback. Driven by the era of new commercial civilization, BRL Medicine holds an open, shared, and win-win attitude, and works with global innovative biomedical ecological chain companies to accelerate the transformation and implementation of innovative drugs, so as to benefit global patients with genetic diseases and malignant tumors!
About Porton Advanced
Porton Advanced is a subsidiary of the globally recognized CDMO Porton Pharma Solutions Ltd. (SZSE Stock Code 300363), founded in 2018. Located in Suzhou, China, Porton Advanced offers a cGMP-compliant manufacturing platform for plasmids, cell therapy, gene therapy, oncolytic virus, mRNA therapy, and bacterial therapy, enabling different development stages for global companies.
Porton Advanced operates on a "Customer First" approach to Gene and Cell Therapeutics (GCT) manufacturing, anchored by its core principles of "Compliance, Expertise, and Open Collaboration". The company operates to rigorous, internationally harmonized Quality Management and IP protection standards, bringing innovative manufacturing solutions to the complex challenges in the GCT space.